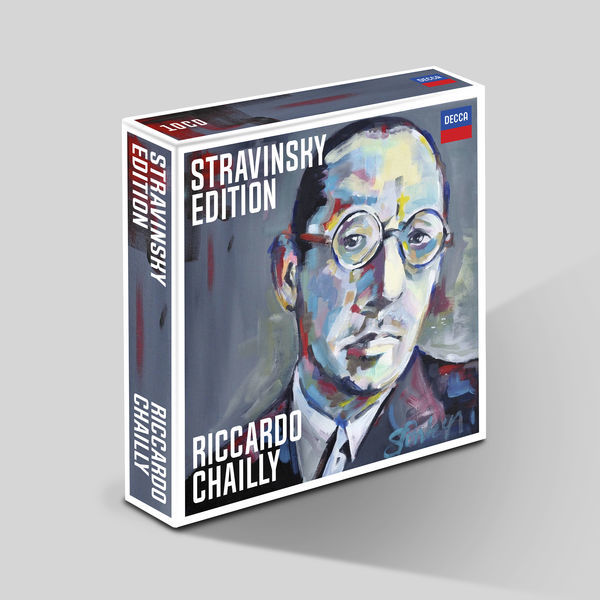 Artist:
Stravinsky: Limited Edition CD Box Set
Commemorating the 50th anniversary of the composer's death, Decca has assembled the complete recordings of Igor Stravinsky made by Riccardo Chailly. These are presented together for the very first time. Maestro Chailly has recorded more music by Stravinsky than he has by any other composer. Highlights among the 30 works presented here include a number of radio broadcast recordings with the Royal Concertgebouw Orchestra, four chamber works including Dumbarton Oaks on CD for the very first time and the rediscovered Chant funèbre, the manuscript lost for over a century, that was exclusively recorded for Decca with the Lucerne Festival Orchestra to wide critical acclaim.

A 100pp booklet accompanies the set and features new informative liner notes by Stravinsky scholar Stephen Walsh, and interview with Riccardo Chailly conducted by Gramophone Magazine's Editor-in-Chief James Jolly; sung texts; work index and many archive photographs.
TRACKS:
CD 1
1    Le Faune et la bergère (The Faun and the Shepherdess) Lucerne Festival Orchestra -- Live     
2    Feu d'artifice (Fireworks) Lucerne Festival Orchestra & Radio Symphony Orchestra Berlin -- Live     
3    Chant funèbre (Funeral Song) Lucerne Festival Orchestra -- Live     
4    Scherzo fantastique Lucerne Festival Orchestra -- Live     
5    Le Roi des étoiles (The King of the Stars) Rundfunkchor Berlin, Radio-Symphonie-Orchester Berlin     
6    Feu d'artifice (Fireworks) Radio-Symphonie-Orchester Berlin     
7    Scherzo fantastique Royal Concertgebouw Orchestra     
CD 2
1    Le sacre du printemps (The Rite of Spring) Lucerne Festival Orchestra     
2    Renard London Sinfonietta     
3    Le chant du rossignol (Song of the Nightingale) Radio-Symphonie-Orchester Berlin, Riccardo Chailly     
CD 3
1    Le chant du rossignol (Song of the Nightingale) Royal Concertgebouw Orchestra Live     
2    Histoire du soldat (Suite) (The Soldier's Tale) London Sinfonietta     
3    Octet London Sinfonietta     
4    Suites I & II London Sinfonietta     
CD 4
1    Ragtime for Eleven Instruments *; Divertimento (Suite from Le Baiser de la fée) (The Fairy's Kiss);     
2    Concerto in E-flat Dumbarton Oaks*; Tango for chamber orchestra *; Danses Concertante* London Sinfonietta     
CD 5
1    Pulcinella – Complete Ballet Royal Concertgebouw Orchestra     
2    Psalm Symphony Radio Symphony Orchestra Berlin     
3    Jeu de cartes (Card Game) Royal Concertgebouw Orchestra     
CD 6
1    Oedipus Rex Royal Concertgebouw Orchestra Live     
2    Violin Concerto in D Kerr, Royal Concertgebouw Orchestra Live     
CD 7
1    L'Oiseau de feu (Ballet Suite) 1945 version (Firebird) Royal Concertgebouw Orchestra     
2    Tango (Orchestral Version) Leipzig Gewandhausorchester -- Live     
3    Petrushka (revised 1947 version) Royal Concertgebouw Orchestra     
CD 8
1    Four Norwegian Moods Cleveland Orchestra     
2    Le sacre du printemps revised 1947 version (The Rite of Spring) Cleveland Orchestra     
CD 9
1    Apollon Musagete (Apollon musagète) (1947 version) Royal Concertgebouw Orchestra     
2    Agon Royal Concertgebouw Orchestra Live     
CD 10-11
1    The Rake's Progress John Dobson, Astrid Varnay, Matthew Best, Stafford Dean, Samuel Ramey, Sarah Walker, Cathryn Pope, Philip Langridge, London Sinfonietta & Chorus
Formats: